SOAP
A Bible Reading Plan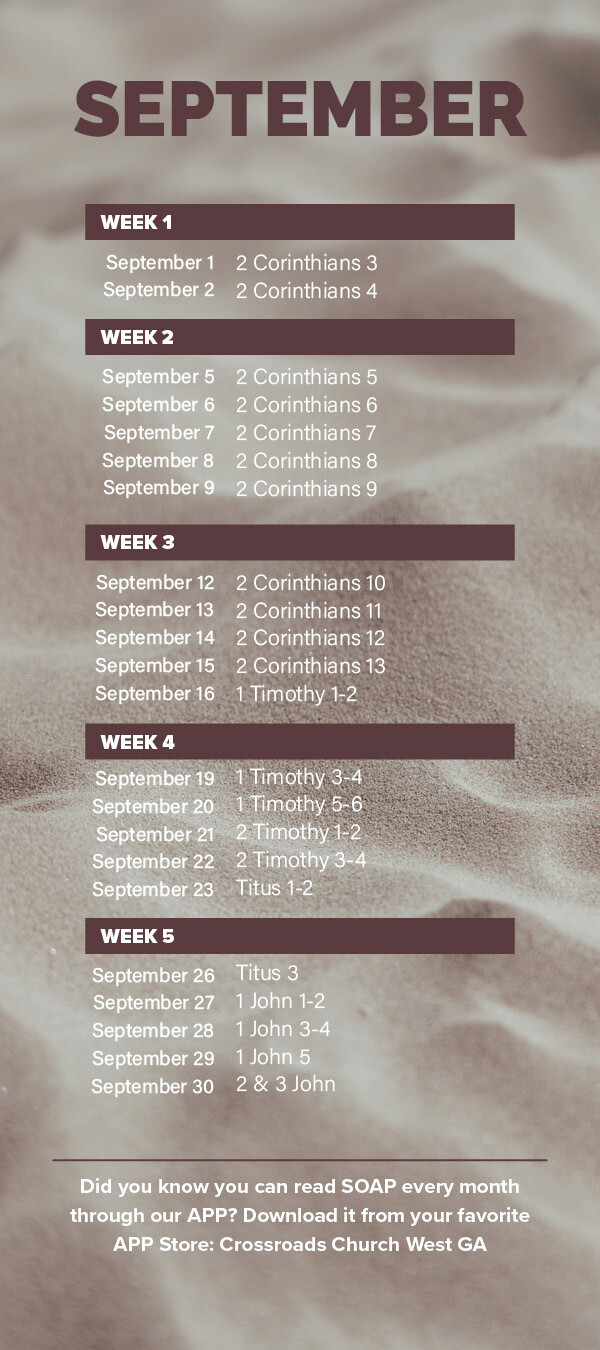 Download SOAP Guide:
(right click image/Save As or
Press and Hold image to save)
---
A New Way to Read the Bible!
What is SOAP?
SOAP stands for Scripture, Observation, Application, and Prayer. SOAP is a journaling method that helps us grow in God's Word by recording our thoughts, emotions, and connections when Reading the bible. We use the SOAP method, along with the SOAP reading schedule to help us in our journey to a better life found in Jesus Christ.
Scripture
Write down the portion of Scripture you will journal on. This is usually a short section that you have underlined or marked as you were reading.
Observation
Write down your thoughts and observations of the passage.
Application
Write down how you will apply this passage to your life today.
Prayer
Write down a prayer to God about your experience today.
How to use a SOAP Journal:
Before you start, pray for God to show you how to apply the reading to your life today. Use the reading schedule to find today's Scripture. Then begin reading today's scripture. As you read, underline or write down anything that speaks to you as a personal word to be applied. When you read with an open heart, God will give you words of encouragement, direction, and correction. When you finish reading, use SOAP to write down how God's word impacted you.
---
Resources:
Read The bible anywhere you go Bible.com
SOAP Journal: 1 week Sample Journal Download
---
*The S.O.A.P. method is a guide for personal study and journaling that is widely used by many churches. It was adapted from the book, Divine Mentor by Pastor Wayne Cordeiro, Lead Pastor of New Hope Church in Honolulu, Hawaii.